As a kid growing up in downtown New York City, Scarlett Johansson would regularly see Kate Moss and Gisele Bündchen on David Yurman billboards overlooking Soho. So it was "a very nice, really big deal" when she was handpicked—along with actor Henry Golding—as the latest David Yurman muse to get her very own XL ad, along with a short film where she gets chased by the paparazzi, rolls around in bed, and sings "New York, New York." (Yes, besides fighting Thanos and fighting for fair pay, Johansson can also sing very well.)
To talk about the new campaign, Johansson called us from home in New York—we love a local girl!—to discuss male gazes, female expectations, and what happens when she really needs to talk to someone.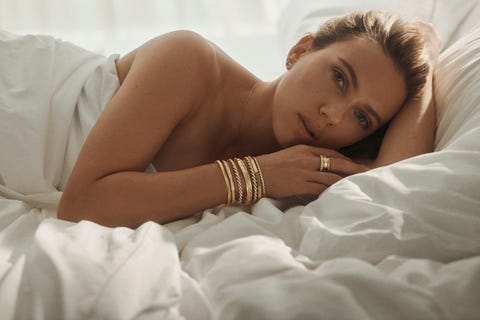 Johansson in bed with David Yurman (jewelry).DAVID YURMAN
You've posed in a bed for Dolce & Gabbana, for your recent Amazon commercial, and now for David Yurman. Did they come to you and say, "Okay, it's a bed shot!" or at this point, is that just a given?